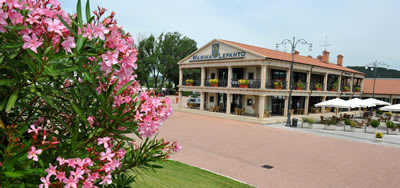 The comfort and sophistication of our facilities, which can be seen in the furnishings and the attention to detail, make Marina Lepanto the place to go in the Northern Adriatic. With a restaurant, bar, swimming pool, Club House, conference hall and various retail outlets added to our tailor-made, efficient services, a relaxing and entertaining stay is guaranteed.

At Marina Lepanto you can hold meetings, conferences, business conventions and workshops all year round in our fully equipped Meeting Room which has a capacity of 99 seats. The room has up-to-date audio and video equipment so that you can project films and slides from your own computer.

The Club House and the La Rosa dei Venti restaurant serving the best in seafood are ideal locations for celebrating special occasions. We also have a spacious veranda offering spectacular views, an elegant swimming pool and the Piazza Meridiana, where you can organize parties, shows and fashion events.

Marina Lepanto provides a quality catering service to make every event extra special. A sophisticated array of Italian and international cuisine is prepared ad hoc for each occasion by our chefs.