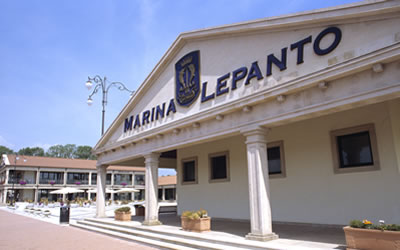 Marina Lepanto, strategically positioned on the Northern Adriatic, is a new recreational harbour designed to satisfy the needs of even the most demanding yachtsmen thanks to the wide range of amenities it offers. Its central position in the Friuli Venezia Giulia region means that it serves as an access point for the cities of Trieste, Monfalcone, Lignano and Grado.
With a total area of 70,000m² of water, 220 berths arranged between 6 floating pontoons equipped with fingers with integrated side fenders and fresh water and electricity supplies, an area of 15,000 m² set aside for dry-docking and a shed for storing vessels with a surface area of 2,400m² and height of 9.5m and a boat showroom of 1,000m², Marina Lepanto at Monfalcone offers you an excellent place to dock where you can be safe in the knowledge that you will receive a complete, top-quality service.
The comfort and sophistication of our facilities, which can be seen in the furnishings and the attention to detail, make Marina Lepanto the place to go in the Northern Adriatic. With a restaurant, bar, swimming pool, Club House, conference hall and various retail outlets added to our tailor-made, efficient services, a relaxing and entertaining stay is guaranteed.
Marina Lepanto is also synonymous with excellence in maintenance and repairs. We have an amply sized shed complete with the necessary equipment for all routine and special maintenance operations. The outdoor area boasts a hull-cleaning station and a 70-ton travel lift, with a slipway for dry-docking and launching vessels up to 28m in length and 6.9m in width guaranteeing safe, problem-free movements of vessels. We also offer a boat transport service.
Its location means that the marina can be reached comfortably from many Italian cities and also from bordering nations: it's only 5km from the Ronchi dei Legionari airport and 1.5km from the last exit "Monfalcone EAST" on the A4 Venice-Trieste motorway (Trieste direction).